Providing the best garage security options designed to
keep your garage safe and secure.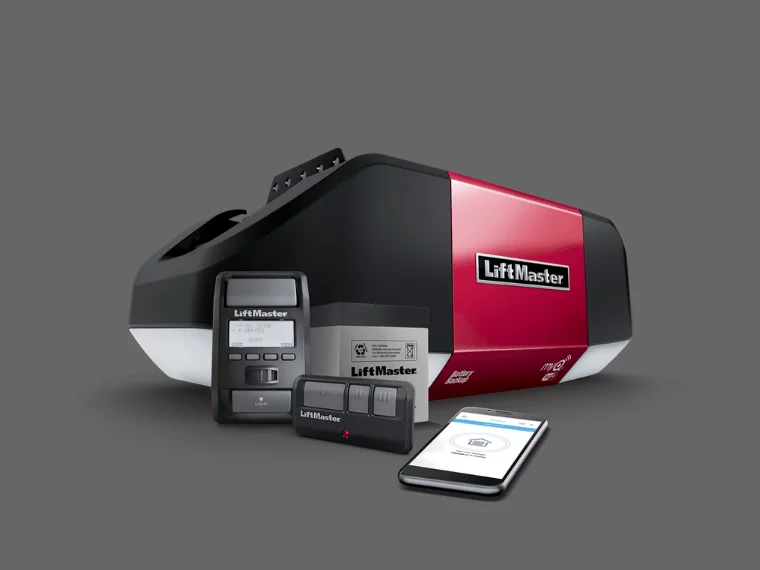 Garage Security
We care about our family, friends, and neighbors, which is why we recommend a variety of LiftMaster garage door openers and accessories designed with garage security in mind.
The garage door is one of the most common points of entry burglars target when attempting to break into a house. This often occurs in the middle of the night when you're asleep, during the holidays, or when you're away from home for an extended period of time. Fortunately, there is a wide variety of products available to help you keep your home safe and secure.
We offer a range of garage door openers and accessories that have been designed with garage security in mind. These products have been developed over the years to address the revolving techniques burglars use to break into a garage.
Security 2.0® safeguards your garage from unwanted entries by sending a new code to your garage door opener every time you click your opener. This ensures people won't be able to accidentally (or purposefully) open your garage with a similar code. These are often called "rolling codes" and they're tremendously helpful in securing your garage.
We also offer an automatic garage door lock, which deadbolt locks your garage door automatically every time you close it. This physical lock provides the strength and security needed to prevent forced entry.
In combination with the Posilock®, which is built into the garage door opener and electronically protects the garage door from opening, you can rest assured your garage security is impenetrable.
You may also be interested in a timer-to-close feature, which you can program to close automatically after a set amount of time. This ensures your garage will close even if you forget to do so when you leave.
We also provide a motion detection system designed to activate the garage door openers lights when there's movement in the garage.
If you're interested in securing your garage from unwanted visitors, we highly recommend exploring the idea of upgrading your garage door opener. With advanced features, such as built-in Wi-Fi for smartphone connectivity and control, battery backup, and bright LED lighting, you can rest easy knowing your garage security will keep you and your family safe.
Schedule an Appointment
Select the date that works best for you and we'll
visit to provide an estimate.
Garage Door Security
We know that you want to keep your family safe, and we're here to help.
Your Garage Door Guys is a family-owned and operated company providing professional garage door security for our family, friends, and neighbors. Our technicians are trained professionals who will make sure your garage door is secure before they leave.
You won't find another company like us with such great prices and amazing service anywhere in town!
Call now to schedule an appointment.
How can I make my garage door more secure?
Many homeowners wonder how they can make their garage door more secure. There are several different ways to go about it, but one of the best is adding garage door security cables to your existing equipment.
Related: How to Lock a Garage Door
The cable runs through the sectional panels on either side of the door and locks into place with a padlock. These cables are not visible from the outside of your home and they can be added to any type of garage door: carriage, sectional, or roll-up.
Can someone break into a garage door?
While it's possible for someone to break into a garage door, they would need special tools and extensive knowledge of garage door security.
Our technicians will ensure your door is equipped with the necessary equipment and security features that will keep you and your family safe.
How do I secure my garage door from the outside?
Nothing is more frustrating than coming home to find your garage door open, knowing that someone has been in your house. Just the thought of it can make you feel violated and unsafe.
There are two main garage door security options for the outside, a sliding bar lock or a stop bar.
A sliding bar lock with an L- or T-handle, which is incorporated as part of the door, is one approach to secure your garage door from the outside. A garage door defender (stop bar), which is a distinct locking mechanism that connects to the ground and must be bolted down.
On time! Good work! Good price!
Problem with garage door early Saturday morning. Called Garage Door Doctor, got an appointment for morning work. Arrived on time. Technician diagnosed two problems – fixed both. Price was very fair…. I'll call them again when problems arise.
Gordon Whitnall
Great Service
In the last 2 months I have called them for service and I am very pleased . He comes on time and explains everything that he is going to do. When I call the office and talk to Wendy she is very helpful and easy to talk to…… I recommend them highly….
Terri Bond
5 Stars
I give 5 stars. I was very please with the service. I was pleased from my original contact with the office thru completion. Brent was on time and did a great job. I would recommend them to all my friends. Great Job…….
Theresa Bond
Highly recommend again and again
I just had a new door put in at my son's place. Excellent job/workmanship. Adrian answered all my questions and is very knowledgeable. He even arrived early!!! I have had many doors put in by them through the years and would highly recommend. Great business!!!
Bill Cass
Excellent Customer Service and Professionalism
I highly recommend this company. They are the best! We needed a new garage door. Brent, the owner, was so easy to talk to. He was very knowledgeable and answered all our questions. He and his team are friendly and very professional. We ended up with a garage door that we absolutely love at a competitive price. So, if you need work done on a garage door—look no further. These are your guys!
John Shontere
5 stars
You could not ask for an easier home improvement project, YGDG, both the owner/worked and office were nothing but professional and efficient. I would recommend them to anyone who needed any work done on their garage doors. We had the opener replaced, which was done beyond expectations and topped it off with a friendly discussion about camping and family fun… again, great work..5 stars
CBarrett
BEST Garage Door Company
If I could give more stars I would!What an AMAZING experience! I ordered a new garage door and from the initial call to the completion of the project, I am beyond satisfied!!! I had a few estimates done and Brent from "Your Garage Door Guys" was the last company I got an estimate from and thank goodness for that because I realized the other companies were a rip off!!! Their price was not only the BEST but their customer service and professionalism was on point! THANK YOU Brent and Wendy for such a POSITIVE experience! I will definitely tell my friends, family and whoever else that's willing to listen to me about your AMAZING company!!!
Amanda L.
My garage doors
I could not have asked for any better service and politeness of the ones that installed our garage doors. They finished the doors in a very good time and cleaned up all the mess. Also programmed my car and told us how to use Myq
David Marshall
I recommend them highly
YGDG owner Brent, who is very personable and easy to talk to, offered a straight forward deal at a competitive price. Adrian, the technician who came to install the door was highly skilled at his job. He installed the door rapidly with no wasted motions or hesitations. I recommend them highly.
Cyrus M.
Prompt, courteous and very professional!
I have to say , Brent and company are my go to guys when it comes to fixing my doors. They are prompt, courteous and very professional! Brent always makes sure to go the extra mile and he fixes things right the first time.
Jose H.
Prices were very fair
Justin and Brent came to fix our garage door which would leak in water regardless of heavy rain or small showers. Prices were very fair and they also completed maintenance on our door — soooo much quieter now! On top of that, they came within time window and I could tell that they try hard to come…
Jennifer W.
Provided excellent, skilled service on my garage door
This company has consistently provided excellent, skilled service on my garage door issues through the years, at reasonable prices. I highly recommend them.
Carol K.
Very professional, on time and easy to work with
Brent and his team did an excellent job in the installation of my boss' gate opener. They were very professional, on time and easy to work with. Thanks so much Brent!
John T.
Our Reviews
Discover what our customers say about Your Garage Door Guys.