Providing professional garage door installation and garage door
replacement services since 1998.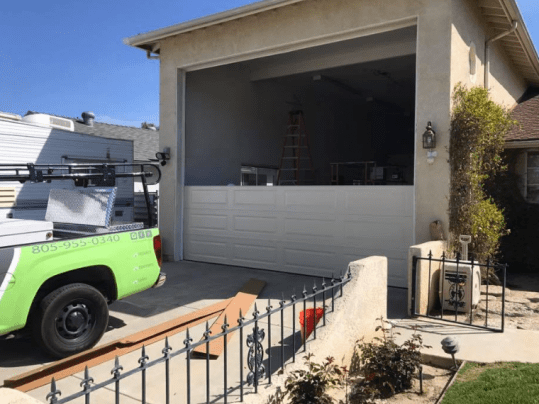 We provide professional garage door installation among other garage door services.
Installing a new garage door requires a complete understanding of the mechanics of the garage door. With Your Garage Door Guys, you can rest assured your garage door will be installed correctly by one of our highly-trained and experienced garage door technicians.
Since 1998, we have installed just about every type of garage door. Whether you're interested in installing contemporary garage doors, modern garage doors, or carriage garage doors, we have the experience and knowledge needed to get the job done. We recommend the Amaar® line of garage doors to our customers because we found they provide the best value for our customers when combined with expert installation. This allows us to keep our customers' garage door installation cost down without sacrificing quality.
We pride ourselves on offering the top of the line products and services at affordable prices because we believe our customers deserve the best. We understand the importance of providing excellent service and strive to continue earning our customers' trust year after year.
If you're interested in a new garage door and garage door installation, please consider making us Your Garage Door Guys. We appreciate and thank you for the opportunity to be of service and look forward to discussing your project with you.
Schedule an Appointment
Online
Select the date that works best for you and we'll
visit to provide an estimate.
My garage doors
I could not have asked for any better service and politeness of the ones that installed our garage doors. They finished the doors in a very good time and cleaned up all the mess. Also programmed my car and told us how to use Myq
David Marshall
I recommend them highly
YGDG owner Brent, who is very personable and easy to talk to, offered a straight forward deal at a competitive price. Adrian, the technician who came to install the door was highly skilled at his job. He installed the door rapidly with no wasted motions or hesitations. I recommend them highly.
Cyrus M.
Prompt, courteous and very professional!
I have to say , Brent and company are my go to guys when it comes to fixing my doors. They are prompt, courteous and very professional! Brent always makes sure to go the extra mile and he fixes things right the first time.
Jose H.
Prices were very fair
Justin and Brent came to fix our garage door which would leak in water regardless of heavy rain or small showers. Prices were very fair and they also completed maintenance on our door — soooo much quieter now! On top of that, they came within time window and I could tell that they try hard to come…
Jennifer W.
Provided excellent, skilled service on my garage door
This company has consistently provided excellent, skilled service on my garage door issues through the years, at reasonable prices. I highly recommend them.
Carol K.
Very professional, on time and easy to work with
Brent and his team did an excellent job in the installation of my boss' gate opener. They were very professional, on time and easy to work with. Thanks so much Brent!
John T.
Our Reviews
Discover what our customers say about Your Garage Door Guys.