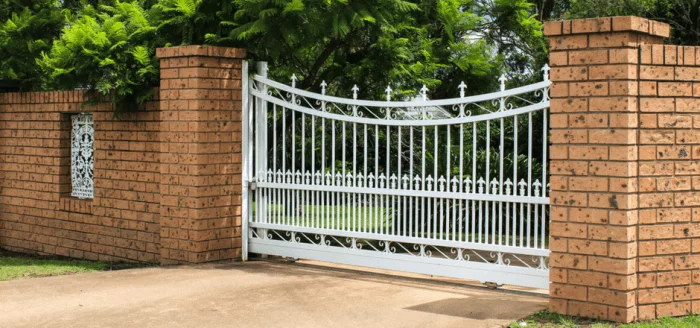 If you're interested in enhancing the curb appeal and security of your home, you have options.
Today, we're taking a closer look at the benefits of aluminum driveway gates so you understand the differences this material offers compared to more expensive driveway gates. Whether you're renovating or preparing to sell your home, installing a driveway gate is an easy way to make a great first impression while protecting your family.
Let's get started …
Aluminum Driveway Gates
When renovating our homes we often focus on the interior as this is where we spend most of our time.
The exterior of our homes, however, is just as important when it comes to making our house look the best that it can be. Whether you are thinking of getting your home ready to sell or you simply want to make your home look and feel more luxurious, adding elegant driveway gates is an easy way to improve the look of your home.
What are the benefits of aluminum driveway gates?
Lightweight Material
Low Maintenance
Safety
Attractive
Cost-effective
Let's take a closer look at these top five benefits.
1. Lightweight Material
You may be wondering why the weight of a driveway gate is so important and there are certainly many reasons. Heavy iron gates can be difficult to close, particularly for children and older generations, so they are not ideal for all households. Aluminum, on the other hand, is light and gates made of this material are easy to open and close. The lightness of aluminum gates does not mean that they are not durable, quite the opposite. By being easy to navigate you do not risk pushing and pulling them from the hinge too much or dragging them along a hard pathway when the hinges deteriorate. When it comes to buying your aluminum driveway gates. you will be offered different styles which may vary in weight so do ask your supplier for advice on what is the optimum gate for your house.
2. Easy to Maintain
If you are tired of having to pay to clean away the rust and cracks in your iron gates or you are throwing money away fixing up rotting and chipping wooden gates, then it is time for a change. Aluminum driveway gates are great for those who live in wet or damp areas as they will not deteriorate like iron and wood. Aluminum is very easy to clean and maintain, with little problems encountered over the many years that you will have them. While aluminum gates will not require re-painting on a regular basis you can paint them if you are simply wanting a restyle of the outside of your home. Investing in a good maintenance plan from your gate supplier will ensure that you enjoy the look of your new aluminum gates for many years to come, adding value to your home at the same time.
3. Safety
One of the main reasons that people buy strong driveway gates is to protect their home. Not only will strong gates help prevent intruders from entering your home or stealing your car, they ward off unwanted animals too. If you have animals yourself they will not be able to chew through the gates as they would be able to with wood. Wood also brings issues with fires, so in the unfortunate event that your an area of your garden was on fire, your gates would not go up too. The ability to add secure gates to your driveway means that you can enjoy the peace of mind that you deserve in your home.
4. Attractive
When it comes to adding curb appeal to your home, installing aluminum driveway gates will definitely earn you brownie points. If you want your home to stand out among your neighbors' driveways then you will want a gate that looks classy and original. Installing a gate with an original design will support you in the long-run when it comes to selling your home as prospective buyers will be looking for features that offer the wow factor.
Aluminum is a great choice for people of all tastes. It comes in a wide variety of contemporary designs or you can choose from a range of classic designs if you prefer a more traditional gate. Similar to wrought iron, aluminum gates but will not rust or age as quickly. With the flexibility to tailor your gate to suit your personal style, you can guarantee that you will be the only one with your gate in your neighborhood. The flexibility of these gates also means that you can fix them to any area, even if you live on a slope.
5. Cost Effective
Good aluminum driveway gates are not cheap, but despite all of the great benefits that we have spoken about, they will not cost the earth either. Traditionally, driveway gates were made of iron but this material was and still is expensive, so you will actually be saving money when you choose aluminum. Compared to the number of times that you would need to change wooden gates, aluminum lasts for many years so you will not have to keep buying new gates on a regular basis.
Aluminum is freely available so there are lots of great offers available from companies who pass on this great value to customers. With low maintenance costs, once you have bought your aluminum driveway gates there is little to no further expense unless you wish to change the color of your gate.
Choosing A Trusted Supplier
As a responsible homeowner, when choosing an aluminum driveway gate to be sure to buy from a reliable trader that offer advice on the best gate for your home. As stated above, buying an aluminum gate is not very cheap so you will need to make sure the brand that you buy will stand the test of time and that you will benefit from a good after sale experience. You should also ask your supplier about installation details and guarantees.
If you are thinking of upgrading your driveway and want to do more than just install new gates, there are many other upgrades to think about including:
• A new path
• A new lawn
• Landscaping
• Adding flowers and trees
• Exterior paintwork changes
• New garage doors
Conclusion
Whatever you choose to do with your home and whatever gate design you decide to invest in, you are sure to impress your neighbors if you take the time and resources to make the best decision.