Of all the driveway gates available today, aluminum single swing driveway gates offer the safety, security, and cost-effective price range most homeowners and business owners seek.
In this article, we're taking a closer look at some of the benefits of aluminum single swing driveway gates so you know what to expect.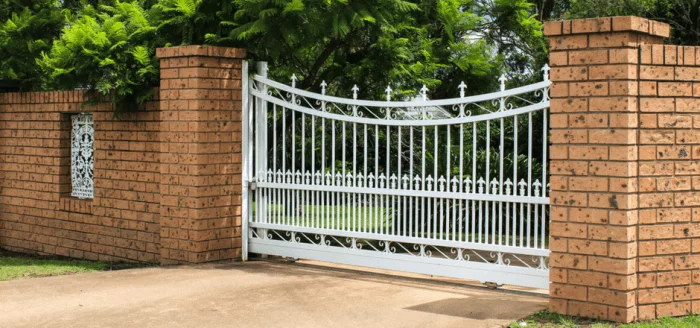 Aluminum Single Swing Driveway Gates
Single swing driveway gates are designed to open and close with one smooth action inward or outward. In many cases, swing gates are best for properties with limited space on either side of the driveway, as a sliding gate requires space to slide open.
A driveway gate is just the thing if you're looking to improve security at your home, keep loved ones safe, or just control who drives on and off your driveway. When you start shopping around though, you'll see that there are all kinds of gates on offer. What kind of gate should you choose for your driveway? Here's why an aluminum single swing driveway gate is just the thing for you.
Here's what you need to know about aluminum single swing driveway gates.
Why A Single Swing Gate?
When you come to buy a gate, you'll see that there are three main types of gates to choose from:
Single swing gates
Double swing gates
Sliding gates
All gates have their advantages, you'll just need to find the gate that works best for your driveway. A single swing gate opens much like a door, swinging on one set of hinges. These work best if you have a longer driveway, as they'll give you enough room to open the gate and have the car ready behind it to move out. They also look attractive too, something to consider if you want to improve your property's curb appeal.
A double gate swing is a better option if you have a wider driveway opening, or have less space for the gate to open. As they open in the middle, the gate does not need to swing as wide.
A sliding gate is best for driveways that are shorter and don't have much room for a gate to open outwards. A sliding gate will slide to the side, so if you have room along your fencing or walls, it can open that way instead.
Why Aluminum?
Now it's time to consider the material of your driveway gate. You can buy gates in a huge array of materials, including the following:
The material you choose will depend on the style of gate you want, the look you're going for, and longevity. Aluminum is a perfect choice for gates as it's a lightweight metal, ensuring that it's easy for you to get that gate open and shut every time you use it. They look fantastic, too. You can get the look of wrought iron, at a fraction of the price. Finally, they just cost a lot less overall. They don't corrode or rust, so you're not dealing with maintenance costs, and they are a lot cheaper to buy and install.
The next most popular choice is a wooden gate. These are popular thanks to their looks, as wood is such a versatile material. You can a gate in almost any style you'd like with wood. You can get more privacy if you choose a close boarded style, and you'll always have a unique gate, thanks to natural variances in the wood. However, they do need maintenance to keep them looking good.
Steel is also commonly used in gate construction, thanks to its naturally strong composition, allowing for more complex designs. However, steel will rust and corrode over time, so you need to take care of it.
Safety And Security
One of the most common reasons homeowners install a driveway gate is to provide safety and security to their home. Having any kind of a gate on your driveway means you've got another layer of security. If anyone needs to get into your home, they've got to get through the gate first. That alone will give you more peace of mind.
When you team the gate up with other security measures, then you'll really start beefing up your home security. Automatic lights are one of the most popular home security measures and with good reason. They're simple to install, and once they're in you don't have to worry about them until the light bulb needs to be changed. If anyone comes into range of the light, it'll come on. Perfect for you when you're looking for your keys at night, a nightmare for anyone trying to enter without being seen.
A keypad on your gate is a good measure against unwanted guests, too. If the correct number is put in, the door will open. If not, it's going to stay shut. This is a good option for you too if you don't want to be carrying an extra key with you when you go out.
Automating Your Gate
Once the gate is installed, you have the option of automatic. Much like your garage door, a gate can be motorized so when you drive up to it with the appropriate remote in your car, the gate will open for you. This is a godsend when it's raining outside, or you want to stay in the warmth of your car for as long as possible on a cold winter's day.
Automation also provides more security for you and your home, too. If someone doesn't have the right remote in their car, the gate will not open for them. This will help you feel much safer, whether you're home or not.
If you're looking to reduce your carbon footprint, you can even install a solar-powered gate opener onto your gate. These are powered by a solar panel that's mounted somewhere in your driveway where it can get optimal sun. These are also beneficial as you won't need to dig up your driveway to add the opener to the power grid.
Conclusion
An aluminum single swing driveway gate will give you security and peace of mind while being light and easy to use. Add the options you want to it, like a keypad or automatic opening, and you'll wonder how you ever did without it.
Now that you know the benefits of aluminum single swing driveway gates, you can make your decision with confidence. If you're still not sure about the selection, you can always give us a call to speak with one of our friendly driveway gate installation specialists for guidance.