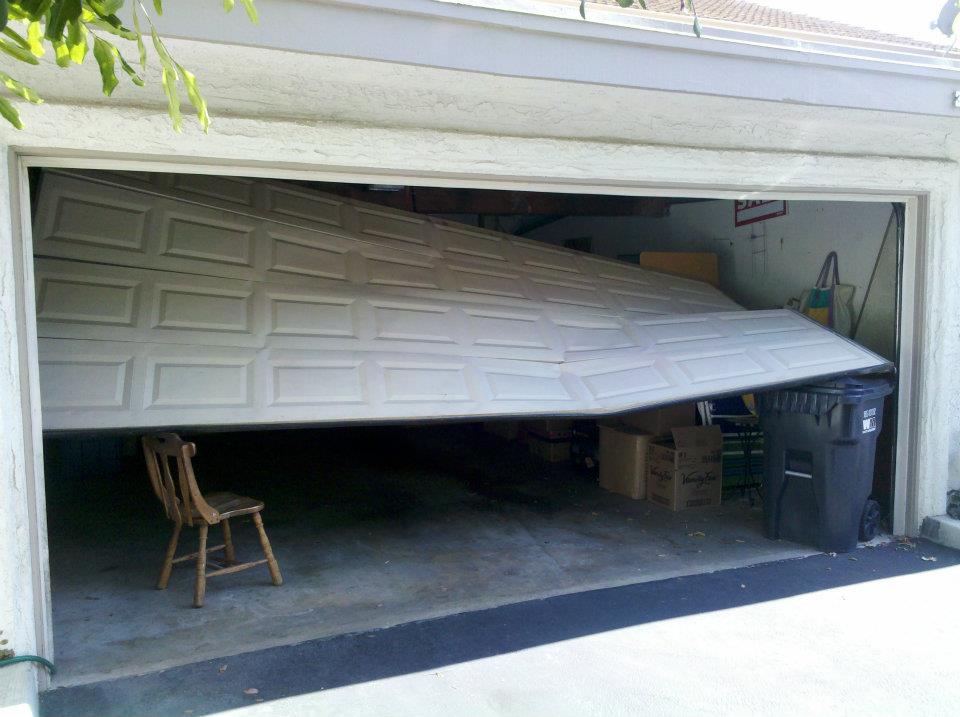 Garage doors may become dented for a variety of reasons, including everything from weather to vehicle accidents.
No matter how it happens, a garage door dent will impact the appearance and functionality of your garage door. For this reason, it's best to seek the help of a professional who can perform the garage door repair you need to get your garage door back up and running.
In this article, you will learn how to fix a dented garage door.
How To Fix a Dented Garage Door
No matter how well you take care of your garage door, eventually you're going to be dealing with dents. They happen for all sorts of reasons, and often you just can't prevent them. If you've found a dent in your garage door, don't panic.
You may be able to repair minor damage and restore the original appearance of your garage door. Here's how to fix a dented garage door.
Here's how to fix a dented garage door.
How Garage Door Dents Happen
There are all kinds of reasons why you may be dealing with a dent in your garage door. You could have suffered a particularly bad storm, and hailstones or even a falling tree branch may have dented your door. Perhaps your kids accidentally kicked a ball into the door, denting it. You may have even driven your car into the door while you were having an off day. No matter how careful you are, it's very easy to accidentally dent it.
DIY vs. Professional Repair
You have two options when it comes to mending dents in your garage door. You can call in an expert to mend it for you, or you can mend it yourself. There are advantages to both.
If you mend your garage door yourself:
You can get the dent fixed right away.
You'll save some money as you won't need to pay someone for their time and expertise.
If you're handy it won't take you very long.
If you call in an expert:
You won't have to worry about causing more damage to your garage door.
The expert will get the job done quickly and cleanly.
They'll be able to inspect your door and ensure it's working properly before they go.
There are good reasons to try both methods, so it's very much up to you. If you're feeling confident, you can try and repair your garage door yourself. If you're not, you can easily call in a professional.
Mending Your Door ASAP
It's important to repair those dents in your garage door as soon as you can. Firstly, those dents can look unsightly even though the damage is just cosmetic. If you're looking to sell your home, those dents can have a seriously detrimental effect on your curb appeal.
It's also important to repair the dents as they can cause damage to the door over time. If left unchecked, they could affect the way the door opens, leading to more costly repairs in the future.
How To Fix That Dent
Now if you're going to DIY your repair, you've got a lot of options. There are a few different repair methods out there, so here are some that you can try.
Hammering Out The Dent: This is the most common way of repairing a dent, and it's the first method you should try. You'll need a square piece of wood and a hammer. Hold the wood up against the distending side of the dent, and hammer against it to tap the dent out. In most cases, this will be enough to mend it.
Using A Lighter And Compressed Air: This method sounds difficult, but it's honestly quite simple and effective. To start, you'll need to clean the area thoroughly with some dish soap and water and allow the area to dry completely. Next, you'll need some aluminum foil, a lighter, and a can of compressed air. Roll out the foil across the dent, and hold it there as you run a lighter across the dent for a minute. Once you've done that, remove the foil and then spray the compressed air at the spot for about 30 seconds, keeping the can upside down the entire time.
The change in temperature from hot to cold should pop that dent right out, meaning you won't have to do any more work on it.
Suction Cup Method: This method is often used by auto body shops, and it'll also work on your garage door. All you do is attach a suction cup to the dented spot in the door, and pull it out using the cup. Head to a hardware store or auto body shop to get a suction cup that will work on your door.
Filling In The Dent: This method is often used if you've tried the above tricks, and you haven't totally got the dent out. It's still quite simple so it's a DIY job you can do over a weekend.
You'll need to sand down the indented area, and mix up some auto body hardener according to the instructions on the packet. Then, apply the filler to the area, smoothing out the dent. Allow it to dry again according to instructions, and then sand it down to smooth it. You'll then need to prime the spot and paint the garage door in order to blend the filler in with the rest of the door.
What If It Doesn't Work?
If you've tried to fix your own garage door and found that the dent still won't come out, don't despair. Sometimes the dents are just not going to come out with conventional methods. When you've tried yourself and you can't get the dent out, you should call in a professional team to come and look at the door for you.
They'll have more tools and experience at their disposal, so they may have some ideas on getting that dent out. In most cases, you'll get a free quote so you should certainly take advantage of this.
In most cases, they'll be able to mend the dent themselves, ensuring your garage door will look great again. Sometimes, you'll find that you're going to need to replace your garage door. This happens when the dent is too large or complicated to mend. Your garage door professional will let you know what is happening with your door, and what your options are.
Mend That Dent Today
Now you have all the information at hand, you can ensure that your dent will be fixed as soon as possible. It's a lot easier than many homeowners imagine, so it's worth trying to fix it yourself. Give it a try today.