If you're interested in adding an elegant layer of security around your home or business and want to save electricity, you may be interested in solar powered gate openers for your driveway. These gate openers are powered by solar power, which allows you to save money on your utilities every month.
In this article, we're taking a closer look.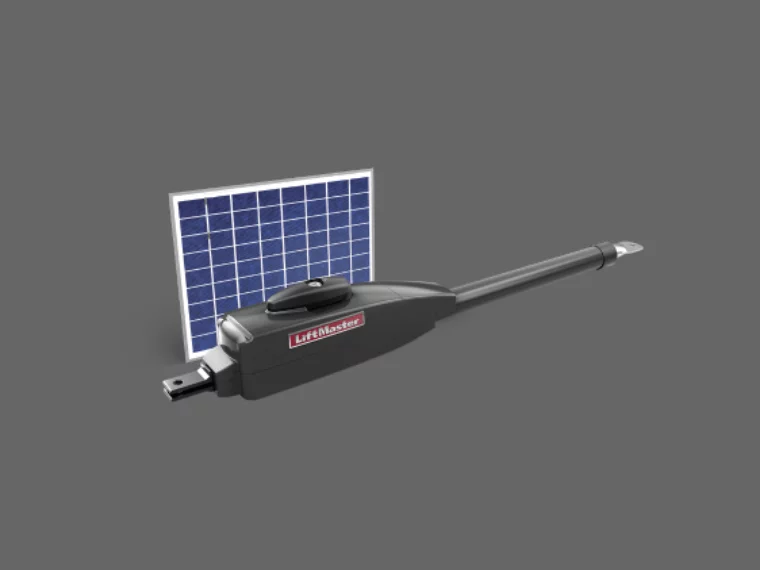 Solar Powered Gate Openers for Your Driveway
You can save a considerable amount of energy by switching to solar power technology. If the thought of savings interests you, consider the benefits of solar powered gate openers for your driveway.
Whether you have a driveway gate installed at home or at the office, a solar-powered driveway gate opener may just be what you need to save money every month.
Today, we're taking a closer look at some of the benefits of installing solar powered gate openers for your driveway.
Saving The Planet
The first and most important reason for installing a solar-powered gate opener is because it reduces your carbon footprint, and helps you save the planet in your own way. As a homeowner, you're already working on reducing your impact on the environment. You turn off appliances when you're not using them, you recycle as much as you can, and you choose to buy from companies that have good, ethical practices. When it comes to home improvement projects, it can be difficult to be as environmentally friendly as you'd like.
That's why a solar-powered gate opener, as opposed to one that runs from your main grid, is such a good idea. As soon as the system is hooked up you'll see it'll start collecting power. It's dedicated to your gate, so you don't have to worry about powering it again. As long as the panel is exposed to sun, you're good to go. It won't cost you or the planet a cent to open your gates.
Save Money On Electric Bills
When thinking about what impacts your electric bills, you probably won't think of your driveway garage door opener first. However, everything on your property that uses power is contributing to your power bills. With bills getting higher and higher all the time, it's no surprise that you're looking for ways to reduce your costs.
That's why a solar-powered garage door opener is the best idea for you. It will no longer cost you money to open that gate every time you get home from work. Instead, it'll use the power of the sun, reducing your power bills alongside all the other power-saving steps you take, such as switching lights off and reducing your AC usage when you're not home.
Can Be Placed Almost Anywhere
A solar-powered gate opener sounds like a great idea, but you're worried about the look of it. Is it going to detract from the look and curb appeal of your home when it's mounted right next to the gate?
Mounting the solar panel right next to the gate is an option, but you have to do it that way. You can actually mount the panel several meters away if you want to place it in an area that won't detract from the look of your home. You can do this if your gate isn't in an optimal spot for sunlight, too. You want the panel to get a good amount of sunlight, so you can put it wherever it needs to be to work as intended.
No Worries About Power Outages
Some homeowners worry that if the power goes out in their area, their gates won't be able to work. With all automatic gate openers, this shouldn't be much of a problem. If there's no power, there will be a feature that allows you to open the gate manually, so you'll always be able to get in and out.
If you need the gate to be automatic at all times, then a solar-powered gate opener is the way to go. Even if the main power is out, you'll find that the gate will still keep opening for you. No more worries, as you'll have a fully functioning gate no matter what happens.
Works With All Kinds Of Gates
There are lots of different options for your driveway gate, depending on your needs. A single swing gate is a classic look at works perfectly for many homes. A bi-swing gate opens up in the middle and is brilliant if you have a wider driveway opening, and have the room for the gates to open. A sliding gate needs almost no room at all but keeps your home secure. Can a solar-powered gate opener work with these gate types?
The good news is no matter what type of gate you've had installed, you can use a solar-powered gate opener with them. That means you've got lots of choices when it comes to the gate you want for your driveway, and you won't have to worry about the opener working with them.
Avoids Expensive Groundwork
When you have a regular gate opener installed, you'll need to connect it up to your power grid. In most cases, this shouldn't be too difficult, but for some homeowners, it'll be a problem. If you have a long driveway, you'll need to do a lot of groundwork in order to connect the power. That means more construction in your home, and more expenses in order to get the job done.
Many homeowners go with solar powered gate openers as they don't need all that work to be done. The solar panel is hooked up to the gate opener, and that's it. It's a lot less fuss and mess, and you'll have your automatic gate opener before you know it.
Get Your Gate Opener Installed Today
There are lots of reasons why you'd want to look into a gate opener for your driveway. Nothing beats being able to pull up to your driveway and have the gate open for you. No more getting out in the rain or snow to open it, just pull up and pull in. It also offers a lot of peace of mind, as you're ensuring that your home will always be secure. No one will be able to pull into the driveway if they don't have the right opener for your gate.
A solar powered gate opener is the right option for so many reasons. It saves on energy and power bills, will work no matter what, and avoids more expensive work being done to your home. Now's the time to look into installing one on your gates.