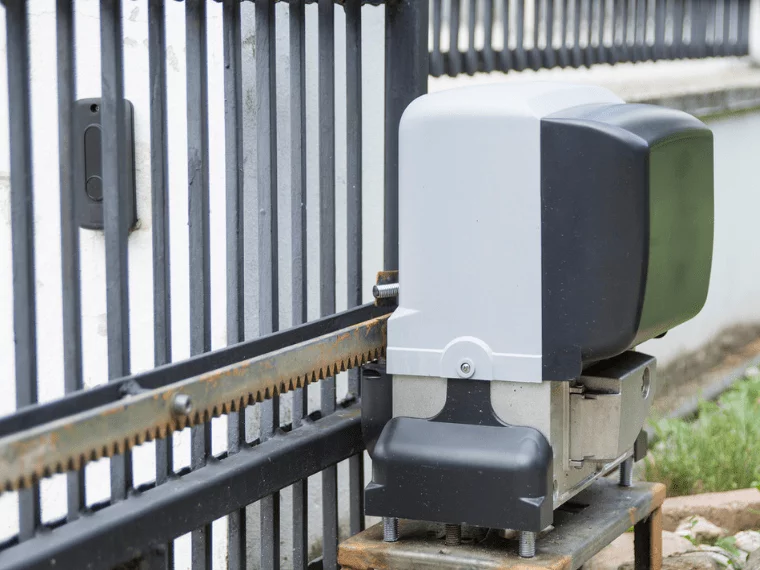 If you're looking for an elegant way to enhance the curb appeal and security of your home or business, you may be interested in the benefits of automatic sliding driveway gates.
In this article, we will take a closer look at the benefits of automatic sliding driveway gates.
Automatic Sliding Driveway Gates
There is a variety of driveway gates available today, each of which offers a different set of features and functionality.
The biggest difference between automatic sliding driveway gates and other gates is the way the gate opens and closes. This type of gate slides along a track instead of swinging open and uses a specific type of gate opener for its operation.
Let's take a closer look at the benefits of automatic sliding driveway gates.
Benefits Of An Automatic Sliding Driveway Gate
There are lots of reasons why you may want to choose a sliding gate over a regular swing gate. Here's some that you need to consider before you buy:
Space-saving: The most important thing about a sliding gate is that it doesn't need a lot of room to open. Rather than swinging out like a regular gate, it will slide along your fencing. If space is at a premium on your driveway, then you'll find this to be a perfect space saver. You will need to ensure that there's nothing in the way of the gate, such as shrubs or plants, but if there's a clear path beside the fence, then you're in luck.
Open up without getting out of your car: If you have an automatic garage door opener, then you'll know just how helpful this feature is. If you have the right paired remote in your car, the gate should open when you get close to it. No more getting out of your car to open the gate so you can drive-in. There's also no keypad number to memorize, as long as you have the remote you'll get in. This is a feature you'll really appreciate during cold weather when you don't want to get out of your warm car.
Secure your home: Another benefit of the automatic feature is that it won't open for just anyone. If you don't have the correct remote feature in your car, then you won't be able to get the door open. This gives you a lot of peace of mind when you're away from home. Of course, having any kind of gate on your home is also an excellent security measure, as there's another layer of defense against wrongdoers.
What To Know Before Installing An Automatic Sliding Driveway Gate
There are a few things you'll need to keep in mind when you're choosing a new gate for your home.
Like all gates, automatic sliding driveway gates will require regular maintenance to ensure the gate functions properly year after year as intended. If you're not sure how to check your gate for problems and maintain its performance, you may be interested in contacting a professional in your area. A professional will be able to provide the maintenance and driveway gate repair you need.
As noted above, you'll also need to move any plants that are in the way of the gate, before you install it. Luckily, the gate moves parallel to the fence, so hopefully, you shouldn't need to move much. You will need to ensure that any nearby plants are trimmed back regularly so they don't grow in the way of the track.
You'll also need to remember that an automatic sliding gate will cost more to install than a swing gate. This is because there will need to be track and mechanisms to install to make it work as intended. If you're happy paying larger upfront costs though, you'll feel the benefits of this style of the gate right away.
Is A Swing Gate Better For You?
Sometimes, the sliding gate style won't work for you and your home. How do you know if you should go for a swing gate instead?
There's plenty of space: If you have a large, wide driveway, then you won't see as much benefit from a sliding gate. A swing gate works well if you have enough room for the gate to swing out and the car to sit behind it, waiting to move out. You can go with double gates to reduce the amount of space the gates need to swing.
You're on a budget: There's no denying that an automatic gate will cost more to install. If you need to make renovations but you're on a smaller budget, then you'll need to think about using a swing gate instead. The swing gate will give you a lot of benefits that you'd also get with the sliding gate, such as added security
If you're not sure, you may want to consider contacting a driveway gate installation contractor for guidance.
Increase the Security of Your Gate
Having that automatic sliding gate will no doubt increase the security of your home. There are other ways you can increase that security and give yourself peace of mind.
Firstly, ensure that you install security lights around your property, especially near the gates. The best lights are those that are motion-activated, so will come on when someone comes near. These are a fantastic deterrent for anyone who shouldn't be near your property. They don't want to be seen, so if there are lights near all entry points it'll be too much of a risk for them.
It's also important you only give car remotes to those that need them. The more remotes out there that work with your driveway gate, the less secure it is. Ideally, there should only be one remote per car in your household. If you have an extra remote, ensure that it's not kept anywhere in clear view from outside your home.
It goes without saying that every time you go out, you need to ensure that everything is locked. That includes your gate. An automatic sliding gate works well here, as it will lock shut as soon as it slides shut after you. That way, you don't need to remember to get out of the car and lock it before you head on your way. That's good to know when you're running late.
Conclusion
There are so many reasons why you should consider an automatic sliding gate.
They're secure, they take up very little space, and they're much easier to open and close as you just do it at the touch of a button. They take a little more maintenance and will cost more upfront, but they offer a lot more convenience and peace of mind, so they're worth looking into if you're looking to install a gate on your driveway.